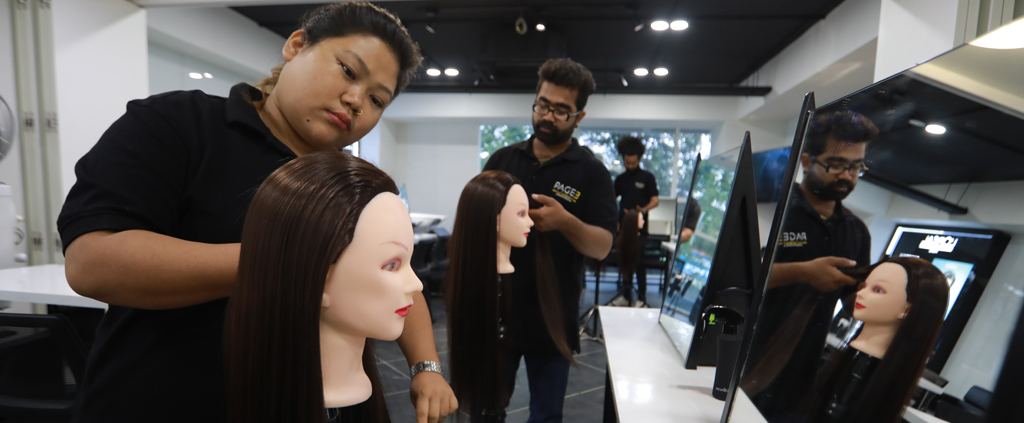 What students say about Page 3 Academy's hair styling classes in Coimbatore.
Page 3 Academy in Coimbatore offers the best hairstyling classes in South India through their professional courses certified by the world renowned L'Oreal Arth Academy. These are 4 month professional courses which end with exams and a diploma certificate from L'Oreal Arth. They offer the best course content which is focused on skills, business acumen and also wellness. The best trainers with experience and international exposure guide and mentor students through the course and ensure that graduates are fully ready to take on the challenges of hair styling in the real world when they complete the course.
Here is what some of the students of Page 3 Academy have to say about hairstyling classes offered in Coimbatore. K. Lokesh shares that his experience at the academy when doing the four month professional course was nothing less than great. He says that the technical trainers were especially helpful in training them in advanced techniques of hairstyling. Particularly the skills of avoiding mistakes or correcting mistakes in hair cuts was taught in great detail and he found this very helpful. The course also helped him understand the colour wheel better and how to offer the perfect colouring solutions according to the client's needs.
Bandana Rai shares that this academy and the course offered is the perfect place to upgrade your hairdressing skills and get better prepared to launch a career in hairstyling. She especially appreciates how good the trainers are and how they work to increase the confidence levels of the students. She also mentions that the facilities and ambience of the academy are on par with international standards. Rajshree Bangera mentions that the teaching techniques of the trainers is "too good!". She also says that the trainers helped to improve her confidence a great deal. Karuppusamy from Coimbatore was a novice who joined this course and he states that he is now confident about both cut and colour when it comes to hairstyling.
From these testimonials it is clear that Page 3 academy is the right choice for hair styling classes in Coimbatore for both beginners and advanced learners.